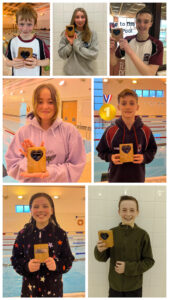 Niamh – for a fantastic all-round attitude, working hard every session, supporting the team and for outstanding competition performances this month!
Keir – for improving beyond all recognition over the last 6 months and making March his month in the competition pool!
Michael – for always being up for a challenge and displaying a great attitude at all times!
Gregory – for great recent competition results and for mastering his back to breast turn!
Rob – for consistently working hard and smart – and for being top dog at the Swimathon!
Phoebe – for making huge progress with her butterfly technique!
Jenna – for overcoming her dislike of having her photo taken for this!