The club runs several fundraising events throughout the year to help keep fees and membership to a reasonable level.  The income from monthly training fees doesn't fully cover the cost of pool hire, coaching and lifeguards.  We depend on other income from other sources, but predominately fundraising.
Please help your club by getting involved.  Don't just rely on someone else doing this, it tends to be the same people who get involved every time.  Your club needs you!  Get involved where you can by donating time or money, and get your wider community involved as well.
Easy fundraising
Did you know that whenever you buy anything online – from your weekly shop to your annual holiday – you could be raising free donations for Heart of Midlothian Amateur Swimming Club with easyfundraising?
There are over 6,000 shops and sites on board ready to make a donation – including eBay, Argos, John Lewis, ASOS, Booking.com and M&S – and it won't cost you a penny extra to help us raise funds.
All you need to do is:
1. Go to https://www.easyfundraising.org.uk/causes/heartofmidlothianswim/?utm_campaign=raise-more and join for free.
2. Every time you shop online, go to easyfundraising first to find the site you want and start shopping.
3. After you've checked out, the retailer will make a donation to Heart of Midlothian Amateur Swimming Club at no extra cost to you whatsoever!
There are no catches or hidden charges and Heart of Midlothian Amateur Swimming Club will be really grateful for your donations.
Thank you for your support.
Lottery
The lottery is a vital fundraiser for the club to help pay for basic pool time which the monthly fees don't cover.  We desperately need more people to take part each month, it's easy to do and it helps support the club for all our kids.   The draw is made monthly with each ticket costing £5.  Three cash prizes are awarded each month – 1st prize of 25% of the monthly pot; 2nd prize of 15%; 3rd prize of 10%.  You can purchase more than 1 draw number and friends, family, colleagues and neighbours can all take part as long as they're over 18.  Witnessed prize draws will be held each month by the 20th of the month, winners are notified by email.
To get started, email lottery@swimhearts.com, indicating how many draw numbers you wish to be allocated.
Bag packing
We try to get one bag packing slot at a supermarket per year.  Recently though it's become very difficult to get one.  When we can get one they are a very easy and good source of income.  This can range from £500 to the massive £1300 made at Tesco Colinton on 23rd December 2017.  We only ask swimmers and parents to donate at least one hour of their time, which isn't much to ask.  It's great fun, the kids enjoy it and we've never had a bad experience.  Please get involved when asked, all levels of the club should take part.
Pig racing night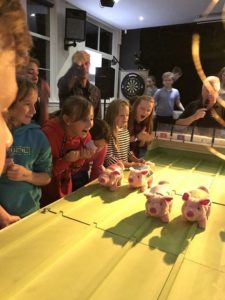 We run a fun pig racing night every September, which as well as being a fundraiser is an opportunity to socialise for the swimmers and parents.  Get family, colleagues and friends involved by "selling" them a pig or two.  If their pig wins they will get a cash prize.  Invite them to the race night and they'll be able to cheer it on in person.
Tombolas and Raffles
We run a tombola and raffle stall at all our own meets – Premier age group, Novice, and SNAGS Last Chance.  We're always looking for a variety of items, look out for emails.
Bake sales
As well as running a bake stall at our own club champs we now try to run 2 throughout the year at either Drumbrae or RCP.