Volunteers play a key role in swimming. Without their dedication, many events would not be possible. As a club, we simply couldn't function without our parent volunteers and officials.
There are three main areas where we need support – poolside, fundraising and club management.
Poolside: Swim meets are obviously an essential part of the sport of swimming. They are enjoyable for the swimmers and crucially help them to gain times to allow them to qualify for District and National events, they also provide valuable experience of racing as well as being an important source of funds for all swimming clubs.
Every meet our swimmers attend is run entirely with volunteers. There are a variety of opportunities for you to get involved at meets throughout the season.  As a club we are required to provide officials at a variety of meets – internal, club and external. To give you an idea of how many people are needed – we need around 20 for a time trial, and many more for our own meets.
Fundraising:  We are very keen to get a balance between social activities and fundraising activities, but given that our annual outgoings are greater than our income, it's really important that we maximise our efforts to make sure that we can continue to keep training costs at a reasonable level.
We have bag packing dates, along with bake sales and a quiz night coming up, and I would encourage you all to support these events in any way you can.
In addition we also need some volunteers to help co-ordinate our fundraising, identifying opportunities for events and applying for grants or other funding.
Club management: The management of the club is overseen by the committee which is made up entirely of volunteers.  Anyone is welcome to get involved.
So, as you can see in order for the club to be sustainable, we require everyone to get involved to support the club. Quite frankly, without this volunteer support our club could not exist.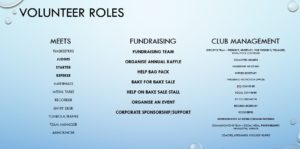 Because we need so many people to help, it is really important that everyone gets involved.  We all have busy lives and it can be difficult to spare the time, but the more people that give their time and support our events, the lighter the burden is on us all.  It also allows us to provide better support to our swimmers both on poolside and through fundraising. And don't forget there are benefits for you too – a poolside view of the swimming, lunch if you stay all day, a free water bottle, access to free Scottish Swimming training, the list goes on!
We are asking all families to commit to volunteering to help the club in some way this season, by becoming an official, helping at meets, joining the fundraising team, taking photographs for us, or if you have any other skills that you feel would be useful.  And this isn't restricted to the adults, there are lots of opportunities for our young people too.
Please email me at president@swimhearts.com to let me know how you can help or to find out more.